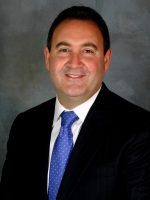 Dr. Jonathan B. Perlin, president, clinical services and chief medical officer of HCA, has been elected to membership in the National Academy of Medicine (NAM), formerly the Institute of Medicine (IOM), at the organization's 45th annual meeting.
Dr. Perlin received his Ph.D. in Pharmacology and Toxicology in 1991 under Dr. Robert DeLorenzo.
Election to the NAM is considered one of the highest honors in the fields of health and medicine and recognizes individuals who have demonstrated outstanding professional achievement and commitment to service. New members are elected by current active members through a selective process that recognizes individuals who have made major contributions to the advancement of the medical sciences, health care, and public health.
"Dr. Perlin is a leader in advancing patient safety and driving clinical excellence, not just at HCA but throughout healthcare," said HCA chairman and CEO Milton Johnson. "His election to this esteemed organization is a significant honor for HCA and recognition of Dr. Perlin's contributions to improving patient outcomes."
Read full story here.