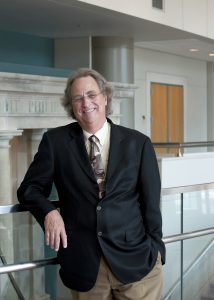 Robert L. Balster, Ph.D.
Robert L. Balster, Ph.D., is the recipient of the 2018 P.B. Dews Lifetime Achievement Award for Research in Behavioral Pharmacology given by the American Society for Pharmacology and Experimental Therapeutics. Balster, the Luther A. Butler Professor in Drug and Alcohol Studies in the Department of Pharmacology and Toxicology, is being recognized for his outstanding lifetime achievements in research, teaching and professional service in the field of behavioral pharmacology.
The ASPET Division for Behavioral Pharmacology sponsors the P.B. Dews Award to honor Peter Dews, Ph.D., for his seminal contributions to the development of behavioral pharmacology as a discipline.
"Congratulations to Dr. Balster on this deserved honor," says Peter F. Buckley, M.D., dean of the School of Medicine. "This award reinforces his work as an internationally recognized scientist in substance abuse who displays an unwavering commitment to fighting disease, improving health for all."
Katherine Nicholson, D.V.M., Ph.D., assistant professor in the Department of Pharmacology and Toxicology, nominated Balster and notes that in addition to his scientific achievements, "Bob is known for his ability to form teams, to inspire others to work together and to develop new programs while being an accessible and amiable colleague. He is one of the most collegial and positive individuals I have known."
Balster has greatly advanced the field of substance abuse research. He was a leader in the development of laboratory models for studying the abuse-related properties of drugs. He applied these models of research in many areas of addiction, with greatest emphasis on the phencyclidine-type (PCP) drugs and abused inhalants. His work has contributed to the development of medications with reduced potential for abuse. More recently, he has focused on research dissemination, serving for 12 years as editor-in-chief of Drug and Alcohol Dependence, and in the development of training programs for addiction scientists and practitioners. He received the VCU Presidential Medallion in 2014.
Balster, also a research professor of psychology and psychiatry in the College of Humanities and Sciences, received his Ph.D. in psychology from the University of Houston in 1970. In 1973, he joined VCU faculty. Balster is the co-founder and co-director of the International Programme in Addiction Studies and associate coordinator of the Hubert H. Humphrey Fellowship Program in Substance Abuse Prevention, Treatment and Policy. He also co-founded the Center for the Study of Tobacco Products at VCU.
ASPET will present Balster with the P.B. Dews Lifetime Achievement Award for Research in Behavioral Pharmacology during the ASPET Annual Meeting at Experimental Biology 2018 in San Diego in April.