William L. Dewey, Ph.D.
Professor and Chair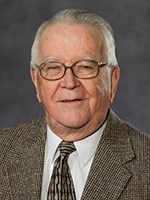 Department: Department of Pharmacology and Toxicology
Phone: (804) 827-0375
Email: william.dewey@vcuhealth.org
Address/Location:
VCU Health Sciences Research Building, Room 100C
1112 East Clay Street
Box 980613
Richmond, Virginia 23298-0613
Education
University of Connecticut, 1967
Research interests
The research carried out in this laboratory is directed toward elucidating the mechanism of action of drugs of abuse with emphasis on the opioids. The major emphasis has been placed on the study of the underlying mechanisms of opioid tolerance and physical dependence. Methodologies employed in this laboratory include behavioral techniques such as classical pharmacological procedures to measure pain and its alleviation, quantitation of blood flow using laser Doppler methods and sophisticated neurochemical procedures such as the use of HPLC to separate endogenous opioids, measurements of endogenous neuropeptides and second messengers via radioimmunoassay of free intracellular calcium levels in cells using whole-cell imaging, as well as microfluorimetric techniques.
Selected publications
McPherson J, Rivero G, Baptist M, Llorente J, Al-Sabah S, Krasel C, Dewey WL, Bailey CP, Rosethorne EM, Charlton SJ, Henderson G and Kelly E. (2010) μ-opioid receptors: correlation of agonist efficacy for signaling with ability to activate internalization. Molecular Pharmacology. 78(4):756-66.
Hull LC, Rabender C, Gabra BH, Zhang F, Li PL and Dewey WL. (2010) Role of CD38, a cyclic ADP-ribosylcyclase, in morphine antinociception and tolerance. Journal Pharmacology Experimental Therapeutics. 334(3):1042-50.
Hoot MR, Sim-Selley LJ, Poklis JL, Abdullah RA, Scoggins KL, Selley DE and Dewey WL. (2010) Chronic constriction injury reduces cannabinoid receptor 1 activity in the rostral anterior cingulate cortex of mice. Brain Research. 1339:18-25.
Hull LC, Llorente J, Gabra BH, Smith FL, Kelly E, Bailey C, Henderson G and Dewey WL. (2010) The effect of protein kinase C and G protein-coupled receptor kinase inhibition on tolerance induced by mu-opioid agonists of different efficacy. Journal Pharmacology Experimental Therapeutics. 332(3):1127-35.
Bailey CP, Oldfield S, Llorente J, Caunt CJ, Teschemacher AG, Roberts L, McArdle CA, Smith FL, Dewey WL, Kelly E and Henderson G. (2009) Involvement of PKC alpha and G-protein-coupled receptor kinase 2 in agonist-selective desensitization of mu-opioid receptors in mature brain neurons. British Journal of Pharmacology. 158(1):157-64.
Bailey CP, Llorente J, Gabra BH, Smith FL, Dewey WL, Kelly E and Henderson G. (2009) Role of protein kinase C and mu-opioid receptor (MOPr) desensitization in tolerance to morphine in rat locus coeruleus neurons. European Journal of Neuroscience. 29(2):307-18.
Li G, Aschenbach LC, Chen J, Cassidy MP, Stevens DL, Gabra BH, Selley DE, Dewey WL, Westkaemper RB and Zhang Y. (2009) Design, synthesis and biological evaluation of 6alpha- and 6beta-N-heterocyclic substituted naltrexamine derivatives as mu opioid receptor selective antagonists. Journal of Medicinal Chemistry. 52(5):1416-27.