Sammanda Ramamoorthy, Ph.D.
Professor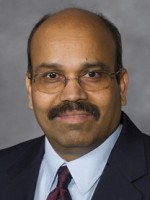 Department: Department of Pharmacology and Toxicology
Phone: (804) 828-8407
Fax: (804) 827-0377
Email: sammanda.ramamoorthy@vcuhealth.org
Address/Location:
Robert Blackwell Smith Building, Room 758A
410 North Clay Street
Box 980613
Richmond, Virginia 23298
Education
University of Madras, India
Research interests
Studies in the Ramamoorthy laboratory are aimed at understanding the contribution of neurotransmitter transporters to CNS function, and more specifically, directed toward understanding the role of monoamines such as dopamine, serotonin and norepinephrine-transporters (DAT, SERT and NET) in normal neurotransmission and in relevance to mental illness, drug abuse, aging and neurodegenerative diseases. The monoamine transporters mediate reuptake of released amines from the synapse, and thus the activity of amine transporters is of crucial importance in the regulation of aminergic neurotransmission. Medications utilized in the treatment of depression, ADHD, OCD and other psychiatric disorders exhibit high affinity for amine transporters. Furthermore, amine transporters are molecular targets for psychostimulants/addictive drugs including cocaine, amphetamines, MDMA (ecstasy) and bath salts.
Since the cloning of the human serotonin transporter in 1993, the primary goal of the laboratory is to understand the molecular basis of transporter regulation thoroughly. By combining molecular, immunological and biochemical approaches, continuing studies in the laboratory seek to identify signals and dissecting cis/trans-signaling pathways that participate in the dynamic process of transporter regulatory pathways in more detail. For example transporter phosphorylation, trafficking, protein-protein interactions, and stability will be studied at the level of transcriptomics, interactomics, proteomics, and lipidomics.
While probing the regulatory mechanisms of amine transporters with increasingly higher resolution, our current efforts are focused in answering these questions: (i) Is the scientific knowledge gained in in-vitro model systems similar and applicable to native systems? (ii) How to translate this knowledge into complex behaviors at a system level? and (iii) Are the dysfunctions in regulatory modules causative factors in altered behavior and in the pathophysiology of the brain? Our laboratory approaches these unanswered questions, with multi-faceted disciplines including neuro – molecular – biochemical – behavioral – and systems/integrated pharmacology utilizing animal models of depression, addiction, and aging, as well as using newly generated transgenic knock-in animal models.
Dr. Ramamoorthy's laboratory is not only dedicated to helping answer questions in the neurobiology of monoamine transporters but also committed to training students, fellows and laboratory personnel with new techniques and scientific principles and questions with the hope to motivate and inspire students, fellows, and colleagues.
Selected publications

Annamalai B, Ragu Varman D, Horton RE, Daws LC, Jayanthi LD, Ramamoorthy S. Histamine Receptors Regulate the Activity, Surface Expression, and Phosphorylation of Serotonin Transporters. ACS Chemical Neuroscience. 2020. Epub 2020/01/10. doi: 10.1021/acschemneuro.9b00664. PubMed PMID: 31916747.
Ruan QT, Yazdani N, Blum BC, Beierle JA, Lin W, Coelho MA, Fultz EK, Healy AF, Shahin JR, Kandola AK, Luttik KP, Zheng K, Smith NJ, Cheung J, Mortazavi F, Apicco DJ, Ragu Varman D, Ramamoorthy S, Ash PEA, Rosene DL, Emili A, Wolozin B, Szumlinski KK, Bryant CD. A Mutation in Hnrnph1 That Decreases Methamphetamine-Induced Reinforcement, Reward, and Dopamine Release and Increases Synaptosomal hnRNP H and Mitochondrial Proteins. The Journal of Neuroscience. 2020;40(1):107-30. Epub 2019/11/11. doi: 10.1523/JNEUROSCI.1808-19.2019. PubMed PMID: 31704785; PMCID: PMC6939476.
Sundaramurthy S, Annamalai B, Samuvel DJ, Shippenberg TS, Jayanthi LD, Ramamoorthy S. Modulation of serotonin transporter function by kappa-opioid receptor ligands. Neuropharmacology. 2017;113(Pt A):281-92. Epub 2016/11/05. doi: 10.1016/j.neuropharm.2016.10.011. PubMed PMID: 27743931; PMCID: PMC5148672.
Rajamanickam J, Annamalai B, Rahbek-Clemmensen T, Sundaramurthy S, Gether U, Jayanthi LD, Ramamoorthy S. Akt-mediated regulation of antidepressant-sensitive serotonin transporter function, cell-surface expression and phosphorylation. Biochemical Journal. 2015;468(1):177-90. Epub 2015/03/13. doi: 10.1042/BJ20140826. PubMed PMID: 25761794.
Kivell B, Uzelac Z, Sundaramurthy S, Rajamanickam J, Ewald A, Chefer V, Jaligam V, Bolan E, Simonson B, Annamalai B, Mannangatti P, Prisinzano TE, Gomes I, Devi LA, Jayanthi LD, Sitte HH, Ramamoorthy S, Shippenberg TS. Salvinorin A regulates dopamine transporter function via a kappa opioid receptor and ERK1/2-dependent mechanism. Neuropharmacology. 2014;86:228-40. Epub 2014/08/12. doi: 10.1016/j.neuropharm.2014.07.016. PubMed PMID: 25107591; PMCID: PMC4188751
Veenstra-VanderWeele J, Muller CL, Iwamoto H, Sauer JE, Owens WA, Shah CR, Cohen J, Mannangatti P, Jessen T, Thompson BJ, Ye R, Kerr TM, Carneiro AM, Crawley JN, Sanders-Bush E, McMahon DG, Ramamoorthy S, Daws LC, Sutcliffe JS, Blakely RD. Autism gene variant causes hyperserotonemia, serotonin receptor hypersensitivity, social impairment and repetitive behavior. Proceedings of National Academy of Sciences (USA). 2012;109(14):5469-74. Epub 2012/03/21. doi: 10.1073/pnas.1112345109. PubMed PMID: 22431635; PMCID: PMC3325657.
Ramamoorthy S, Shippenberg TS, Jayanthi LD. Regulation of monoamine transporters: Role of transporter phosphorylation. Pharmacology and Therapeutics. 2011;129(2):220-38. Epub 2010/10/19. doi: 10.1016/j.pharmthera.2010.09.009. PubMed PMID: 20951731; PMCID: PMC3031138.
Samuvel DJ, Jayanthi LD, Manohar S, Kaliyaperumal K, See RE, Ramamoorthy S. Dysregulation of dopamine transporter trafficking and function after abstinence from cocaine self-administration in rats: evidence for differential regulation in caudate putamen and nucleus accumbens. Journal of Pharmacology and Experimental Therapeutics. 2008;325(1):293-301. PubMed PMID: 18198344.
Zapata A, Kivell B, Han Y, Javitch JA, Bolan EA, Kuraguntla D, Jaligam V, Oz M, Jayanthi LD, Samuvel DJ, Ramamoorthy S, Shippenberg TS. Regulation of dopamine transporter function and cell surface expression by D3 dopamine receptors. Journal of Biological Chemistry. 2007;282(49):35842-54. PubMed PMID: 17923483.