Katherine L. Nicholson, Ph.D., D.V.M.
Associate Professor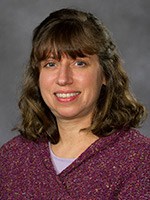 Department: Department of Pharmacology and Toxicology
Phone: (804) 828-6090
Email: katherine.nicholson@vcuhealth.org
Address/Location:
Robert Blackwell Smith Building, Room 734
410 North 12th Street
Box 980613
Richmond, Virginia 23298
Education
Virginia Commonwealth University, 1998
Research interests
Behavioral pharmacology of drugs of abuse
My research focuses on the behavioral pharmacology of drugs of abuse, with particular interest in drugs that alter glutamate neurotransmission. Investigating the effects of drugs on behavior under carefully controlled laboratory conditions provides information on the pharmacological and psychological determinants of drug action. Two laboratory procedures utilized extensively in these investigations are drug discrimination and drug self-administration. The former can be considered an animal model for subjective drug effects in humans. Drugs that produce subjective effects of euphoria or other forms of intoxication are those most likely to be abused. In the second procedure, animal subjects learn to respond in order to receive an intravenous drug injection. Most drugs of abuse are readily self-administered under these conditions. Use of these and other procedures can help with predicting a new drug's abuse liability, investigating the consequences of drug interactions and evaluating new medications to treat drug abuse. My most recent project has been the behavioral analysis of the interaction of site-selective NMDA antagonists with opioid drugs in an animal model of acute opioid dependence. A goal of this research is to determine the efficacy of different NMDA antagonists in preventing opioid dependence and potentially provide information on the underlying mechanism of dependence development.
Selected publications
Shelton KL and Nicholson KL. (2010) GABA(A) positive modulator and NMDA antagonist-like discriminative stimulus effects of isoflurane vapor in mice. Psychopharmacology (Berl). 212(4):559-69.
Lynch WJ, Nicholson KL, Dance ME, Morgan RW and Foley PL. (2010) Animal models of substance abuse and addiction: Implications for science, animal welfare, and society. Comparative Medicine. 60(3):177-88.
Nicholson KL, Balster RL, Golembiowska K, Kowalska M, Tizzano JP, Skolnick P and Basile AS. (2009) Preclinical evaluation of the abuse potential of the analgesic bicifadine. Journal of Pharmacology and Experimental Therapeutics. 330(1):236-48.
Nicholson KL and Balster RL. (2009) The discriminative stimulus effects of N-methyl-D-aspartate glycine-site ligands in NMDA antagonist-trained rats. Psychopharmacology (Berl). 203(2):441-51.