Jennifer Wolstenholme, Ph.D.
Assistant Professor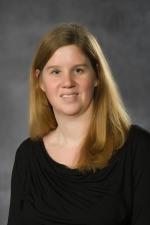 Director, Rodent Behavioral Core VCU Alcohol Research Center
Department: Department of Pharmacology and Toxicology
Phone: (804) 828-4353
Email: jennifer.wolstenholme@vcuhealth.org
Address/Location:
Kontos Medical Sciences Building, Room 631
1217 E. Marshall Street
Richmond, Virginia 23298
Education
PhD (Neuroscience, Pharmacology and Toxicology): Virginia Commonwealth University, Richmond, VA, 2009
Postdoc (Epigenetic, behavioral and transgenerational effects of Bisphenol A): University of Virginia, Charlottesville, VA 2009-2014
Research Interests Neuroscience, Epigenetics, Pharmacology, Toxicology, Neuroendocrinology, including sex differences within the brain and behavior, assessing critical developmental windows of susceptibility for adult-onset disorders.
My research investigates the mechanisms underlying the neural regulation of neuroendocrine, emotional and behavioral responses and how they can mediate risk for neurodevelopmental diseases. Specifically, my research has focused on how insults such as drugs of abuse, social stress, or endocrine-disrupting compounds can affect the neural networks, transcriptional profiles and epigenetic mechanisms that regulate addictive and/or social behaviors. We are also investigating how sex differences interact with these insults. Drawing from my training in juvenile/pre-pubescent mice, I am currently developing a model of adolescence as a critical period for ethanol-induced disruptions on frontal cortex development. We are beginning to identify the genomic and epigenetic mechanisms underlying ethanol's persistent behavioral effects that last long after cessation of ethanol exposure.
Selected publications
van der Vaart A, Wolstenholme JT*, Smith M, Harris G, Lopez M, Wolen A, Becker H, Williams RW, Miles MF (2017) The allostatic impact of chronic ethanol on gene expression: A genetic analysis of chronic intermittent ethanol treatment in the BXD cohort. Alcohol Feb;58:93-106. *corresponding author
Goldsby J, Wolstenholme JT, Rissman EF (2017) Multi- and transgenerational consequences of Bisphenol A on vasopressin and estrogen receptor alpha in male and female mouse brain. Endocrinology 158(1):21-30. PMID: 27841950
León-Olea M*, Martyniuk C*, Orlando EF*, Ottinger MA*, Rosenfeld C*, Wolstenholme JT*, Trudeau VL*(2014) Current concepts in neuroendocrine disruption. General and Comparative Endocrinology 203C:158-173. *equal author contribution PMC4133337
Wolstenholme JT, Goldsby JA, Rissman EF (2013) Transgenerational effects of prenatal bisphenol A on social recognition. Horm Behav. 64(5):833-9. doi: 10.1016/j.yhbeh.2013.09.007. PMC3955720
Wolstenholme JT, Rissman EF, Bekiranov S. (2013) Sexual differentiation in the developing mouse brain: contributions of sex chromosome genes. Genes Brain Behav. 12(2):166-80. doi: 10.1111/gbb.12010. PMC3581734
Wolstenholme JT, Edwards M, Shetty SR, Gatewood JD, Taylor JA, Rissman EF, Connelly JJ. (2012) Gestational exposure to bisphenol a produces transgenerational changes in behaviors and gene expression. Endocrinology. 153(8):3828-38. doi: 10.1210/en.2012-1195. PMC3404345
Wolstenholme JT, Taylor JA, Shetty SR, Edwards M, Connelly JJ, Rissman EF. (2011) Gestational exposure to low dose bisphenol A alters social behavior in juvenile mice. PLoS One. 6(9):e25448. doi: 10.1371/journal.pone.0025448. PMC3182223
Wolstenholme JT, Warner JA, Capparuccini MI, Archer KJ, Shelton KL, Miles MF. (2011) Genomic analysis of individual differences in ethanol drinking: evidence for non-genetic factors in C57BL/6 mice. PLoS One. 6(6):e21100. doi: 10.1371/journal.pone.0021100. PMC3116881
Wolstenholme JT, Rissman EF, Connelly JJ. (2011) The role of Bisphenol A in shaping the brain, epigenome and behavior. Horm Behav. 59(3):296-305. doi: 10.1016/j.yhbeh.2010.10.001. PMC3725332
Khisti RT, Wolstenholme JT, Shelton KL, Miles MF (2006). Characterization of the ethanol-deprivation effect in substrains of C7BL/6 mice. Alcohol 40(2):119-26. doi: 10.1016/j.alcohol.2006.12.003. PMC3082283
Voulalas PJ, Holtzclaw L, Wolstenholme J, Russell JT and Hyman SE (2005). Metabotropic glutamate receptors and dopamine receptors cooperate to enhance extracellular signal-regulated kinase phosphorylation in striatal neurons. J Neurosci 25(15): 3763-3773. doi: 10.1523/JNEUROSCI.4574-04.2005 PMID: 15829628