Hamid I. Akbarali, Ph.D.
Gladys and Harvey Haag Professor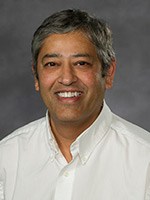 Gladys and Harvey Haag Professor, Vice Chair and Director, Graduate Education and Postdoctoral Training Director, VCU Initiative for Maximizing Student Development
Department: Department of Pharmacology and Toxicology
Phone: (804) 828-9688
Email: hamid.akbarali@vcuhealth.org
Address/Location:
VCU Health Sciences Research Building, Room 100E
1112 East Clay Street
Box 980524
Richmond, Virginia 23298-0524
Education
PhD (Pharmacology): Memorial University of Newfoundland, St. John's, Canada, 1988
Postdoc (Electrophysiology): University of Calgary, Canada, 1989-92
Assistant Professor: Harvard Medical School,1993-00
Research interests The overall focus of our research is to understand the mechanisms governing gastrointestinal function in health and disease in order to develop better pharmacological treatments. The main areas of current research are:
The role of the gastrointestinal microbiome in opioid tolerance
Opioid-induced constipation
HIV-virus proteins and bacterial interaction in enteric neuropathogenesis
Effects of oxidative stress on ion channels in smooth muscle and enteric neurons
We use a variety of experimental approaches at the cellular, whole tissue and in vivo level. The techniques employed include electrophysiology, molecular biology, immunohistochemistry, organ bath, and in vivo gastrointestinal motility.
Gastrointestinal Microbiome and Opioid Tolerance
Opioids are one of the most effective and highly prescribed analgesics. However, the development of tolerance and dependence is a major limiting factor in the use of these excellent pain relievers. Current work in our laboratory is focussed on the role of the gastrointestinal microbiome in mediating opioid tolerance. We recently reported that chronic morphine alters the gut bacterial composition, results in breakdown of the epithelial barrier and induces colonic inflammation due to bacterial translocation. Depletion of gut bacteria prevents the development of tolerance to the analgesic effects of chronic morphine. We are currently pursuing the mechanims by which colonic inflammation affects tolerance and dependence to opioids. These studies demonstrate that peripheral mechanisms, specifically the microbiome is an important modulator of the effects of chronic opioid administration.
Opioid Tolerance and Bowel Dysfunction
A major side effect of morphine is constipation. While repeated administration of morphine results in the development of tolerance to its analgesic effects, constipation remains resistant to tolerance development significantly affecting the quality of life. Our studies are focused on determining the basis of morphine's effect in the colon and the mechanisms associated with the development of tolerance in the CNS and gastrointestinal tract. These studies utilize biochemical approaches to characterize opioid receptors in enteric neurons, determine the electrophysiological basis for morphine's actions by patch-clamp techniques, and in vivo studies in chronic morphine treated transgenic mice models to delineate the role of various adaptor and scaffolding proteins in morphine tolerance. Recent work in our laboratory has led to a working model in which µ-opioid receptor and ß-arrestin2 levels are differentially regulated along the gastrointestinal tract, leading to opioid-induced constipation.
HIV-1 and Enteric Neuropathogenesis
The gastrointestinal (GI) tract presents a major site of immune modulation by HIV, resulting in significant morbidity. HIV has been identified in GI histologic specimens in up to 40% of patients, and the presence of viral proteins, including the trans-activator of transcription (Tat), has been reported in the gut indicating that HIV itself may be an indirect gut pathogen. Studies on the effects of HIV-Tat on enteric neurons are carried out in collaboration with Dr Kurt Hauser in the Department of Pharmacology and Toxicology. We have identified that HIV-Tat enhances neuronal excitability via upregulation of sodium channel (Nav1.8). A compromised epithelial barrier is known to induce opportunistic infection in AIDS. Current studies examine the mechanism of the interaction between bacterial proteins and HIV-Tat. These studies are also being translated to in-vivo and whole tissue experiments to determine the effects on gastrointestinal motility.
Oxidative Stress and Ion channels.
Ion channels provide a major mechanism by which external signals are transduced to the cell. Mutations in ion channels manifest in several diseases (channelopathies) due to functional abnormality of cell excitability. In our laboratory we are interested in characterizing the cellular basis of electrical excitability of smooth muscle from gene expression to electrical gating of ion channels. We are particularly focused on changes in ion channel function associated with colonic inflammation. We use several approaches in our studies including whole cell and single channel patch clamp techniques, real-time PCR, fluorescence resonance energy transfer (FRET), confocal microscopy, site-directed mutagenesis and gene manipulation.
Selected publications
Kang M, Mischel RA, Bhave S, Komla E, Cho A, Huang C, Dewey WL, Akbarali HI: The effect of gut microbiome on tolerance to mophine mediated antinociception in mice. Sci. Rep. 2017, 7: 42658
Guedia J, Brun P, Bhave S, Fitting S, Kang M, Dewey WL, Hauser KF, Akbarali HI: HIV-1 Tat exacerbates lipopolysaccharide-induced cytokine release via TLR4 signaling in the enteric nervous system. Sci Rep, 2016, 6: 31203; doi:10.1038/srep31203
Galligan JJ, Akbarali HI. Molecular physiology of enteric opioid receptors. Am J Gastroenterol Suppl. 2014 Sep 10;2(1):17-21. doi: 10.1038/ajgsup.2014.5.
Ngwainmbi J, De DD, Smith TH, El-Hage N, Fitting S, Kang M, Dewey WL, Hauser KF, Akbarali HI: Effects of HIV-1 Tat on Enteric Neuropathogenesis. J. Neurosci. 2014 Oct 22;34(43):14243-51.
Gade AR, Kang M, Akbarali HI. Hydrogen sulfide as an allosteric modulator of ATP-sensitive potassium channels in colonic inflammation. Mol Pharmacol. 2013 Jan;83(1):294-306
Smith TH, Ngwainmbi J, Grider JR, Dewey WL, Akbarali HI An in-vitro preparation of isolated enteric neurons and glia from the myenteric plexus of the adult mouse. J Vis Exp. 2013 Aug 7;(78).