Hamid I. Akbarali, Ph.D.
Harvey and Gladys Haag Professor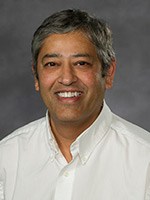 Harvey and Gladys Haag Professor, Vice Chair, Director, VCU Initiative for Maximizing Student Development
Department: Pharmacology and Toxicology
Phone: (804) 828-9688
Email: hamid.akbarali@vcuhealth.org
Address/Location:
VCU Health Sciences Research Building, Room 332
1112 East Clay Street
Box 980524
Richmond, Virginia 23298-0524
Education
PhD (Pharmacology): Memorial University of Newfoundland, St. John's, Canada, 1988
Postdoc (Electrophysiology): University of Calgary, Canada, 1989-92
Assistant Professor: Harvard Medical School, 1993-00
Research interests
The overall goal of our research is to understand the functional integration of the smooth muscle, enteric nervous system, and extrinsic sensory neurons in gastrointestinal function in health and disease. Our current research includes:
The role of the gastrointestinal microbiome in opioid tolerance and hyperalgesia
Chemotherapy-induced gastrointestinal toxicity
We use a variety of experimental approaches at the cellular, whole tissue and in vivo level. The techniques employed include electrophysiology, molecular biology, immunohistochemistry, organ bath, and in vivo gastrointestinal motility.
The microbiome-gut-brain axis in opioid addiction
Opioids are one of the most effective and highly prescribed analgesics. However, the development of tolerance, dependence and hyperalgesia are major limiting factors in the use of these excellent pain relievers. Current work in our laboratory is focused on the role of the gastrointestinal microbiome in mediating opioid tolerance. We recently reported that chronic morphine alters the gut bacterial composition, results in breakdown of the epithelial barrier and induces colonic inflammation due to bacterial translocation. Depletion of gut bacteria prevents the development of tolerance to the analgesic effects of chronic morphine. We are currently pursuing the mechanisms by which colonic inflammation affects tolerance and dependence to opioids. These studies demonstrate that peripheral mechanisms, specifically the microbiome is an important modulator of the effects of chronic opioid administration and highlights the gut-brain axis in opioid addiction.
Chemotherapy – induced gastrointestinal toxicity
Chemotherapy-induced gastrointestinal dysfunction is a common occurrence associated with many different classes of chemotherapeutic agents. Gastrointestinal toxicity includes mucositis, diarrhea, and constipation, and can often be a dose-limiting complication, induce cessation of treatment and could be life threatening. The gastrointestinal epithelium is rich in rapidly dividing cells and hence is a prime target for chemotherapeutic drugs. The incidence of gastrointestinal toxicity, including diarrhea and mucositis, is extremely high for a wide array of chemotherapeutic and radiation regimens. Studies are currently directed towards determining the mechanism by which chemotherapeutic agents affect enteric neurons and induce secretory diarrhea and mucositis.
Selected publications
Akbarali HI, Dewey WL. Gastrointestinal motility, dysbiosis and opioid-induced tolerance: is there a link? Nat Rev Gastroenterol Hepatol. 2019 Jun;16(6):323-324. doi: 10.1038/s41575-019-0150-x. PMID: 31024090; PMCID: PMC7045338.
Akbarali HI, Muchhala KH, Jessup DK, Cheatham S. Chemotherapy induced gastrointestinal toxicities. Adv Cancer Res. 2022;155:131-166. doi: 10.1016/bs.acr.2022.02.007. Epub 2022 Mar 21. PMID: 35779873.
Muchhala KH, Jacob JC, Kang M, Dewey WL, Akbarali HI. The Guts of the Opioid Crisis. Physiology (Bethesda). 2021 Sep 1;36(5):315-323. doi: 10.1152/physiol.00014.2021. PMID: 34431418; PMCID: PMC8813205.
Mischel RA, Dewey WL, Akbarali HI. Tolerance to Morphine-Induced Inhibition of TTX-R Sodium Channels in Dorsal Root Ganglia Neurons Is Modulated by Gut-Derived Mediators. iScience. 2018 Apr 27;2:193-209. doi: 10.1016/j.isci.2018.03.003. PMID: 29888757; PMCID: PMC5993194.
Kang M, Mischel RA, Bhave S, Komla E, Cho A, Huang C, Dewey WL, Akbarali HI: The effect of gut microbiome on tolerance to morphine mediated antinociception in mice. Sci. Rep. 2017, 7: 42658. PMID: 28211545; PMCID: PMC5314392