David A. Gewirtz, Ph.D.
Professor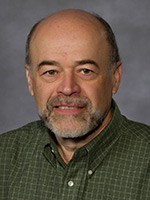 Department: Department of Pharmacology and Toxicology
Phone: (804) 828-9523
Fax: (804) 827-1134
Email: david.gewirtz@vcuhealth.org
Address/Location:
Massey Cancer Center
401 College Street
Goodwin Research Laboratories, Room 321
Box 980035
Richmond,
Education
City University of New York, Mt. Sinai, 1977.
Research interests
Biochemical and molecular effects of antitumor drugs and radiation in breast tumor cells and lung cancer cells.
Regulation of senescence arrest.
Involvement of autophagy in sensitivity and resistance to chemotherapy and radiation.
Mitigation of the toxicity of antitumor drugs.
Senescence and Tumor Dormancy
Breast tumor cells and non-small cell lung cancer cells fail to undergo apoptotic cell death in response to either radiation or antitumor drugs such as Adriamycin and etoposide, instead demonstrating a prolonged growth arrest (Fornari et al, 1996; Watson et al, 1997). Consequently, tumor cells that remain dormant for an extended time period may ultimately recover, leading to disease recurrence. Current research efforts are directed at the development of approaches for promoting cell death in order to (i) enhance the response of breast and lung tumor cells to radiation and chemotherapy and (ii) prevent recovery of proliferative function.
Regulation of senescence arrest
Our studies suggests that prolonged growth arrest in p53 wild-type cells exposed to either adriamycin or radiation reflects replicative senescence (induction of p53 and p21, and expression of the senescence marker, beta-galactosidase); in contrast, non-senescent growth arrest in p53 mutant cells is succeeded by a wave of apoptotic cell death (Elmore et al, 2002). We are continuing to investigate both biochemical and molecular regulation of senescence arrest and the basis for recovery of proliferative function in a subpopulation of the arrested cells (Elmore et al, 2005; Jones et al, 2005).
Involvement of autophagy in sensitivity and resistance to chemotherapy and radiation.
Although there is extensive evidence for a cytoprotective form of autophagy, our laboratory has also identified a nonprotective function of autophagy that, in the case of radiation, is associated with the loss of functional p53 (Chakradeo et al, 2015; Bristol et al, 2013). Our current studies are designed to understand the biochemical and molecular basis for the different functions of autophagy as well as to establish that autophagy is not actually a mechanism of drug or radiation resistance.
Mitigation of the toxicity of antitumor drugs
Our laboratory, in association with that of other members of the department, has initiated a program to understand the basis for the toxicity of drugs such as the taxanes and platinum based compounds in terms of peripheral neuropathy and potentially cognitive dysfunction. This work is being performed in collaboration with the laboratories of Dr. Imad Damaj and Aron Lichtman. It is anticipated that studies will be extended to address cancer cachexia, cancer pain and the arthralgia induced by aromatase inhibitors.
Selected publications
Gewirtz, DA. (2009) Autophagy, senescence and tumor dormancy in cancer therapy. Autophagy. 5(8):1232-4.
Gewirtz DA, Bristol ML and Yalowich JC. (2010) Toxicity issues in cancer drug development. Current Opinion Investigative Drugs. 11(6):612-4.
Wilson EN, Bristol ML, Di X, Maltese WA, Koterba K, Beckman MJ, Gewirtz DA. A switch between cytoprotective and cytotoxic autophagy in the radiosensitization of breast tumor cells by chloroquine and vitamin D. Hormones and Cancer. 2010. 2(5):272-85
Goehe RW, Di X, Sharma K, Bristol ML, Henderson SC, Valerie K, Rodier F, Davalos AR, Gewirtz DA. The autophagy-senescence connection in chemotherapy: must tumor cells (self) eat before they sleep? J Pharmacol Exp Ther. 2012;343(3):763-78.
Bristol ML, Emery SM, Maycotte P, Thorburn A, Chakradeo S, Gewirtz DA. Autophagy inhibition for chemosensitization and radiosensitization in cancer: do the preclinical data support this therapeutic strategy? J Pharmacol Exp Ther. 2013;344(3):544-52.
Gewirtz DA. The Four Faces of Autophagy: Implications for Cancer Therapy. Cancer Res. 2014;74(3):647-51.
Chakradeo S, Sharma K, Alhaddad A, Bakhshwin D, Le N, Harada H, Nakajima W, Yeudall WA, Torti SV, Torti FM, Gewirtz DA. Yet another function of p53: the switch that determines whether radiation-induced autophagy will be cytoprotective or nonprotective. Implications for autophagy inhibition as a therapeutic strategy. Mol Pharm 2015;87(5):803-14.
Alotaibi M, Sharma K, Saleh T, Povirk LF, Hendrickson EA and Gewirtz D.A. Radiosensitization by PARP Inhibition in DNA Repair Proficient and Deficient Tumor Cells: Proliferative Recovery in Senescent Cells. Radiation Research, 2016 Mar;185(3):229-45