Darlene H. Brunzell, Ph.D.
Associate Professor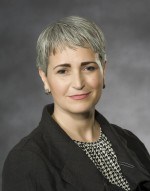 Department: Department of Pharmacology and Toxicology
Phone: (804) 628-7584
Fax: (804) 828-2117
Email: darlene.brunzell@vcuhealth.org
Address/Location:
410 North 12th Street
R. Blackwell Smith Building Room 738
Box 980613
Richmond, Virginia 23298-0613
Education: University of Massachusetts, 1999
Research interests: Neuropharmacology of drugs of abuse and mental illness; Mechanisms of learning and memory; Developmental Toxicology; Sex differences
Drug addiction and diseases such as schizophrenia are multifaceted disorders that are sensitive to genetic vulnerability as well as to environmental factors. Our work combines genetic and pharmacological techniques with various behavioral components of drug addiction and mental illness. This strategy enables us to elucidate the neurochemical and molecular mechanisms of complex behaviors relevant to drug addiction and mental illness as well as to identify mechanistically how these disorders overlap. One focus of the laboratory is to identify the contributions of various nicotinic receptor subunits to the primary rewarding effects of nicotine versus nicotinic receptor regulation of anxiety-like behavior. Our studies show that behaviors associated with nicotine use are uniquely affected by activation and inhibition of diverse nicotinic receptor subtypes. From a therapeutic perspective, these findings may lead to more targeted treatments for smoking cessation. This is accomplished with a combination of techniques that manipulate target genes in behaving animals as well as studies that use molecular and neurochemical endpoints. We are additionally interested in contributions of sex to drug addiction and related illness and on the effects of drug exposure on the developing brain. Focusing on intracellular signaling pathways, neurotrophins and inflammatory cytokines, our ongoing studies are assessing the mechanisms by which exercise serves to promote nicotine cessation and prevention in adolescent males and females.
Representative publications:
Lynch WJ, Tan L, Narmeen S, Beiter R, Brunzell DH. Exercise or saccharin during abstinence block estrus-induced increases in nicotine-seeking. Physiol Behav. 2019 May 1;203:33-41. doi: 10.1016/j.physbeh.2017.10.026. Epub 2017 Oct 31. PMID:29080668
Perkins KA, Roy Chengappa KN, Karelitz JL, Boldry MC, Michael V, Herb T, Gannon J, Brar J, Ford L, Rassnick S, Brunzell DH. Initial Cross-Over Test of A Positive Allosteric Modulator of Alpha-7 Nicotinic Receptors to Aid Cessation in Smokers With Or Without Schizophrenia. Neuropsychopharmacology. 2018 May;43(6):1334-1342. doi: 10.1038/npp.2017.292. Epub 2017 Nov 29. PMID:29185480
Stafford AM, Anderson SM, Shelton KL, Brunzell DH. Oral operant ethanol self-administration in the absence of explicit cues, food restriction, water restriction and ethanol fading in C57BL/6J mice. Psychopharmacology (Berl). 2015 Oct;232(20):3783-95. doi: 10.1007/s00213-015-4040-9. Epub 2015 Aug 14. PMID:26268145
Anderson SM, Brunzell DH. Anxiolytic-like and anxiogenic-like effects of nicotine are regulated via diverse action at β2*nicotinic acetylcholine receptors. Br J Pharmacol. 2015 Jun;172(11):2864-77. doi: 10.1111/bph.13090. Epub 2015 Mar 24. PMID: 25625469
Brunzell DH, McIntosh JM. Alpha7 nicotinic acetylcholine receptors modulate motivation to self-administer nicotine: implications for smoking and schizophrenia. Neuropsychopharmacology. 2012 Apr;37(5):1134-43. doi: 10.1038/npp.2011.299. Epub 2011 Dec 14. PMID:22169946