Dana E. Selley, Ph.D.
Professor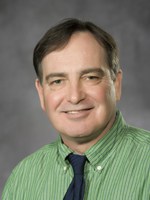 Department: Department of Pharmacology and Toxicology
Phone: (804) 827-0463
Email: dana.selley@vcuhealth.org
Address/Location:
VCU Health Sciences Research Annex, Room 328
1112 East Clay Street
Box 980524
Richmond, Virginia 23298-0524
Education
University of Rochester, 1991
Research interests
Cellular tolerance and dependence
Mechanisms of action of opiates, cannabinoids and alcohol
G-protein-mediated signal transduction
Research in my laboratory focuses on the mechanism of action of G-protein-coupled receptors, especially those that mediate the effects of psychoactive drugs, such as opiates, cannabinoids and antidepressants. Recent studies also have begun to examine the effects of ethanol on G-protein-coupled receptor action in the central nervous system. Molecular and biochemical techniques are used to study several issues related to G-protein-mediated signal transduction and psychoactive drug action in both rodent brain and cell culture models. Major projects examine the molecular mechanisms underlying opioid and cannabinoid agonist efficacy, opioid and cannabinoid tolerance and dependence, efficacy and chronic effects of antidepressant/anxiolytic drugs, and involvement of G-protein-coupled receptors in ethanol intoxication and dependence.
G-protein activation by receptors can be measured directly using [35S]GTPgS-binding and low-Km GTPase assays. We have found that agonist efficacy correlates with several parameters of G-protein activation. Different G proteins modulate the activity of various effectors, such as adenylyl cyclase, phospholipase C and ion channel activity, which also can be measured directly. Because receptors typically couple to multiple G-proteins, different agonists may selectively activate different arms of the signal transduction pathway. This possibility can be tested using cell lines that have been selectively transfected to over-express specific G-protein subunits. Determining the selectivity of agonist-stimulated receptor signaling may lead to the development of drug therapies that maximize medicinal effects while minimizing unwanted side effects.
Chronic administration of drugs can lead to both desirable and undesirable long-term effects. Tolerance to and dependence on opiates is a major problem for both drug-addicted individuals and those who must take opiate pain medication for long time periods. On the other hand, some drugs, such as antidepressants and atypical anxiolytics, must be taken for several days to weeks in order produce a beneficial effect. Various drugs (opiates, cannabinoids, alcohol and buspirone) have been found to produce differential changes in the ability of receptors to activate G-proteins in different brain regions. Some produce widespread profound alterations, whereas others produce small changes confined to specific brain areas. The mechanisms underlying these chronic drug effects, and how they correlate with behavioral and physiological aspects of chronic drug action in animals, is being studied in numerous collaborative projects. In addition, cultured cell lines are being used in our laboratory to study these chronic drug effects in defined cellular systems
Recent publications
Kinsey SG, Mahadevan A, Zhao B, Sun H, Naidu PS, Razdan RK, Selley DE, Imad Damaj M and Lichtman AH. (2011) The CB(2) cannabinoid receptor-selective agonist O-3223 reduces pain and inflammation without apparent cannabinoid behavioral effects. Neuropharmacology. 60(2-3):244-51.
Huffman JW, Hepburn SA, Lyutenko N, Thompson AL, Wiley JL, Selley DE and Martin BR. (2010) 1-Bromo-3-(1′,1′-dimethylalkyl)-1-deoxy-Δ(8)-tetrahydrocannabinols: New selective ligands for the cannabinoid CB(2) receptor. Bioorganic & Medicinal Chemistry. 18(22):7809-15.
Schlosburg JE, Blankman JL, Long JZ, Nomura DK, Pan B, Kinsey SG, Nguyen PT, Ramesh D, Booker L, Burston JJ, Thomas EA, Selley DE, Sim-Selley LJ, Liu QS, Lichtman AH and Cravatt BF. (2010) Chronic monoacylglycerol lipase blockade causes functional antagonism of the endocannabinoid system. Nature Neuroscience. 13(9):1113-9.
Burston JJ, Wiley JL, Craig AA, Selley DE and Sim-Selley LJ. (2010) Regional enhancement of cannabinoid CB1 receptor desensitization in female adolescent rats following repeated delta9-tetrahydrocannabinol exposure. British Journal of Pharmacology. 161(1):103-12.
Smith TH, Sim-Selley LJ and Selley DE. (2010) Cannabinoid CB1 receptor-interacting proteins: Novel targets for central nervous system drug discovery?British Journal of Pharmacology. 160(3):454-66.
Nguyen PT, Selley DE and Sim-Selley LJ. (2010) Statistical parametric mapping reveals ligand and region-specific activation of G-proteins by CB1 receptors and non-CB1 sites in the 3D reconstructed mouse brain. NeuroImage. 52(4):1243-51.
Hoot MR, Sim-Selley LJ, Poklis JL, Abdullah RA, Scoggins KL, Selley DE and Dewey WL. (2010) Chronic constriction injury reduces cannabinoid receptor 1 activity in the rostral anterior cingulate cortex of mice. Brain Research. 1339:18-25.
Falenski KW, Thorpe AJ, Schlosburg JE, Cravatt BF, Abdullah RA, Smith TH, Selley DE, Lichtman AH and Sim-Selley LJ. (2010) FAAH-/- mice display differential tolerance, dependence, and cannabinoid receptor adaptation after delta 9-tetrahydrocannabinol and anandamide administration. Neuropsychopharmacology. 35(8):1775-87.