Charles O'Keeffe, M.B.A.
Professor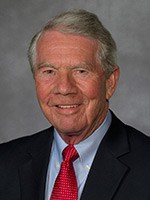 Department: Department of Pharmacology and Toxicology
Phone: (804) 828-6246
Email: charles.okeeffe@vcuhealth.org
Address/Location:
VCU Health Sciences Research Building, Room 100C
1112 East Clay Street
Box 980613
Richmond, Virginia 23298-0613
Education
Temple, 1963
Loyola, 1978
Research interests
Medications development for opioid dependence and overdose treatment
US and International Policy related to addiction treatment
Strategies for increasing patient access to addiction treatment
Selected publications
Jaffe J.H., O'Keeffe C. 2003. From morphine clinics to buprenorphine: Regulating opioid agonist treatment of addiction in the United States, Drug Alcohol Depend 70, S1 3-11.
Johanson CE, Balster RL, Henningfield JE, Schuster CR, Anthony JC, Barthwell AG, Coleman JJ, Dart RC, Gorodetzky CW, O'Keeffe C, Sellers EM, Vocci F, Walsh SL. Risk management and post-marketing surveillance for the abuse of medications acting on the central nervous system: expert panel report.Drug Alcohol Depend. 1:S65-71. doi: 10.1016
Testimony in support of the Drug Addiction Treatment Act of 1999, House Commerce Subcommittee on Health and Environment, July 1999.
Drug Addiction Treatment Act of 1999 Background, History and Rationale for Waiver of Judiciary Committee Jurisdiction, October 1999.
Initial Draft – A bill to amend the Controlled Substances Act with respect to registration requirements for practitioners who dispense narcotic drugs in schedule IV or V for maintenance treatment or detoxification treatment, US House of Representatives, November 1998.
Report – Drug Addiction Treatment Act of 1998, Chairman Thomas Bliley, House Committee on Commerce, October, 1998