Andrew A. George, Ph.D.
Assistant Professor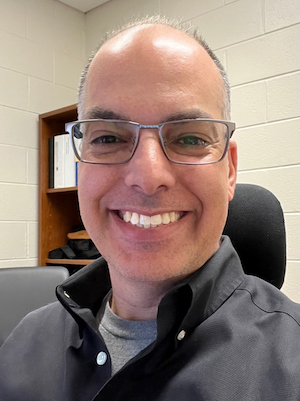 Department: Department of Pharmacology and Toxicology
Phone: (804) 628-8982
Email: andrew.george@vcuhealth.org
Address/Location:
VCU Health Sciences Research Building
1112 E. Clay Street, Room 310,
Richmond, VA 23229
Education:
PhD (Neuroscience): The University of Texas, Austin, TX, 2009
Postdoctoral Fellow: Division of Biology & Biomedical Sciences, Washington University, St. Louis, MO, 2010
Research Interests:
Ion channel structure and function
Alzheimer's disease
neurodegeneration
amyloid-induced alterations in neuronal and network-level excitability
My research seeks to address the following, fundamental questions: A) What specific nicotinic acetylcholine receptor (nAChR) subtypes are targets for amyloid-beta (Aβ) actions at pathologically-relevant concentrations? B) What are the underlying active and/or passive cellular processes that are altered by Aβ-nAChR interactions and contribute to neuronal instability in populations of neurons that selectively degenerate early in AD? C) What are the local excitatory and inhibitory neural circuits that influence Aβ-induced enhancement in basal forebrain cholinergic neuronal (BFCN) excitability? Among the approaches that can be used to answer these questions are studies of individual neurons and integrated circuits involving animal disease and knock-out/knock-in animal models.
Selected Publications:
Roberts RF, Cao Y, Im W, Nichols RA, Lukas RJ, and George AA. Truncated forms of human amyloid beta 1-42 peptides differentially alter α7- and α7β2-nicotinic acetylcholine receptor (nAChR) single-channel properties. Submitted, British Journal of Pharmacology (2023).
York JM, Borghese CM, George AA, Cannatella DC, Zakon HH. A potential cost of evolving epibatidine resistance in poison frogs. BMC Biology, 2023 Jan 4;2023.01.04.522789. PMID: 36711899
Whiteaker P and George AA. Discoveries and future significance of research into amyloid-beta/a7-containing nicotinic acetylcholine receptors (nAChR) interactions. Pharm Res. 2023 May;191:106743. doi: 10.1016/j.phrs. 2023.106743. PMID: 37084859
George AA, Vieira JM, Xavier-Jackson C, Gee MT, Bimonte-Nelson H, Picciotto MR, Lukas RJ and Whiteaker P. Implications of oligomeric amyloid-beta (oAβ42) signaling through α7β2-nicotinic acetylcholine receptors (nAChR) on basal forebrain cholinergic neuronal intrinsic excitability and cognitive decline. J Neuroscience, January 20, 2021; 41(3):555–575. PMID: 33239400
Weltzin MM, George AA, Lukas RJ, Whiteaker P. Sleep-related hypermotor epilepsy associated mutations uncover important kinetic roles of alpha4beta2- nicotinic acetylcholine receptor intracellular structures. PLoS One. 2021 Mar 3;16(3): 2021. PMID: 33657187
Weltzin MM, George AA, Lukas RJ, Whiteaker P. Distinctive single-channel properties of α4β2-nicotinic acetylcholine receptor isoforms. PLoS One 2019 14: e0213143. doi: 10.1371/journal.pone.0213143. PMID: 30845161.
George AA, Bloy A, Miwa JM, Lindstrom JM, Lukas RJ, Whiteaker P. Isoform-specific mechanisms of α3β4-nicotinic acetylcholine receptor modulation by the protoxin lynx1. FASEB J. 2017 Apr; 31(4): 1398-1420. doi: 10.1096/fj.201600733R. PMID: 28100642
Ochoa V, George AA, Nishi R, Whiteaker P. The prototoxin LYPD6B modulates heteromeric α3β4-containing nicotinic acetylcholine receptors, but not α7 homomers. FASEB J. 2016 Mar;30(3):1109-19. PMID: 26586467.
Moretti M, Zoli M, George AA, Lukas RJ, Pistillo F, Maskos U, Whiteaker P, Gotti C. The novel α7β2-nicotinic acetylcholine receptor subtype is expressed in mouse and human basal forebrain: biochemical and pharmacological characterization. Molecular Pharmacology. 2014 July 09; 86(3): 306-317. PMID 25002271.
George AA, Lucero LM, Damaj MI, Lukas RJ, Chen X, Whiteaker P. Function of human α3β4α5 nicotinic acetylcholine receptors is reduced by the α5(D398N) variant. J Biological Chemistry. 2012 Jul 20;287(30):25151-62. PMID: 22665477
Murray TA, Bertrand D, Papke RL, George AA, Pantoja R, Srinivasan R, Liu Q, Wu J, Whiteaker P, Lester HA, Lukas RJ. α7β2 nicotinic acetylcholine receptors assemble, function, and are activated primarily via their α7-α7 interfaces. Mol Pharmacol. 2012 Feb;81(2):175-88. PMID: 22039094.